Friday 8/30 @ Noon CST the BigManToys x Fantastic Plastic Toys figure Johnny "Treegarr" Stumpz goes on sale
You can find each listing on our front page as well as the MWOTR Section of the store. All orders will ship the following Friday as we are waiting final prints/cardbacks from our printer before we take the MWOTR Tour to PowerCon.
http://fantasticplastictoys.com/shop/index.php?route=product%2Fcategory&path=80
Remember this figure comes with a "Golden Ticket" meaning if you ever missed one of our event figures so far (Windy City Wreckage or War Games) each ticket will replace ONE Event Ticket for the Mail Away (so if you missed both releases picking up 2 Treegarrs will allow you to catch up for the Mail Away).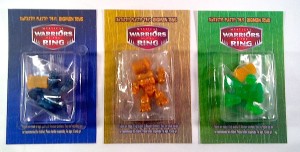 This figure will be run only once as the mold is no longer any good. So best of luck to all who are going to try for one!
We will be revealing the PowerCon Exclusive figure and all his contents on Saturday