As you know by now Lee and I have been furiously working on some really neat MWOTR related projects, some of which we have teased and others only Lee and I are aware of (not even the internal MWOTR team knows about them at this point)
For the longest time I wanted to begin to incorporate his comic world with our PVC/Urethane world but we were not quite sure how to do it.
Then it hit me, the best way to do this was just to bring the comic world out into full color in a way that our toys could play in it.
We went back and forth with how to accomplish this, I could have Simon sculpt an entire arena (and that has not been taken off the table just fyi) but then we began to think of how we played with toys when we were little and I came up with the idea of a playmat.
Scaled for our minifigures this 8×14 mat should give you a fully sized AWF Arena to play with your figures, there is much more to this whole deal then this playmat but this is all we are going to show off tonight 😉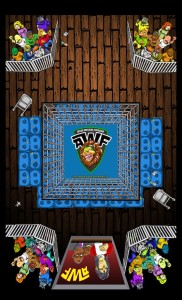 Lee illustrated a wrestling ring, so if you don't have one you can use that faux ring as a play area. But if you have one it fits right on top!
We are still working out pricing and materials, this is not just something we are printing on paper and laminating. It is being professionally produced and we hope to have a handful available at KC Planet Comicon and C2E2, but eventually we have bigger plans for this playmat as just one piece in a much larger expansion this fall 🙂