The great thing about being a wrestling fan in the indie world is you run across a lot of great wrestling related things that people might not ever know about. In the comics world you have wrestling comics like Rival Angels and video games like Pro Wrestling X.
With the dominance of the WWE in all things merchandise, indie projects like these just feel like a breath of fresh air to me. And so I figured it would be fun if I let people who follow us know about two wrestling indie projects/indie artists that I have run across recently. That is why I called this segment "Things I like". And don't worry more MWOTR news and stuff is coming very shortly, but I do like connecting with our fans from time to time on a personal level, and that involves me talking about well…me :p
First up is a Kickstarter I found recently for the comic called Hardcore Luchador.  Now many people know my stance on Kickstarter, I do not feel like its something I want to use to fund my company but that does not mean I don't support projects on it. And our Generations project is steeped in the tradition of Mexican wrestling history as are the current tag team champions Lapin Loco.
When I saw the artwork for this comic I fell in love, its very colorful and just in your face and over the top.

They are currently raising funds to put out their second issue,  and I have included a banner to the right to help promote them during their kickstarter campaign. They are currently about 2/3 of the way funded and so I figured maybe some MWOTR fans would find this interesting as well (even if its just $1). I wish the best of luck to these guys and hope that they get funded and get to live out their dream the same way MWOTR is allowing me to live out mine!
Next up is a awesome guy I just met this past weekend at the C2E2 Nerd City booth. A HUGE wrestling fan like myself finds it real easy to talk up a storm with other wrestling fans, especially if they grew up with the same era I did. So when JB introduced himself to me and gave me a copy of his Convention comic book I realized i just had to have the Mr. Perfect drawing he did, and luckily enough he had the original with him!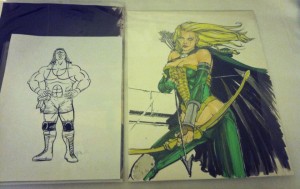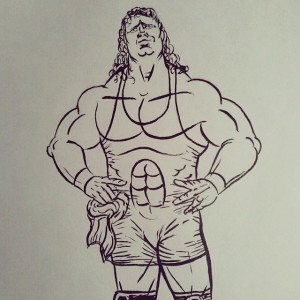 I regret not getting a pic with him, but I am sure we will see each other again since we have a similar circle of friends. JB does a lot of other wrestling inspired art and you can see that here and here.  Who knows maybe he will agree to do some art for us one day in our guest artists spot.