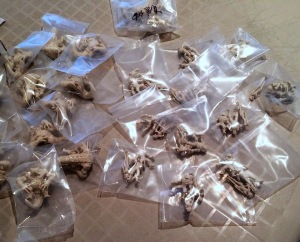 Earlier today our 2nd warehouse in Urbandale received a test shot package from the factory in China.  These test shots were run to work on the tightness in Goliath's arms and to work on tighter details for Series 2.
We will be checking these test shots over the weekend and reporting back to the factory next week.
These test shots are a white/grey color, it is not any main Glyos color but instead the basic plastic commonly used for test shots. Because of that these are much more fragile then say the production quality brown we had Goliath run in for DesignerCon.
Many people have contacted us about buying these test shots, unlike Designercon we did not run these in any large number and instead have literally a handful available. We will most likely add them to the Ringside store early next week as a first come first served nature, but we will discuss that with the MWOTR team this weekend.
We are now that much closer to the full factory production of both Evolution Goliath and Series 2 🙂