Due to the overwhelming demand for these we decided to not list them on the store, it will be first come first served via email since we have less than 5 sets overall available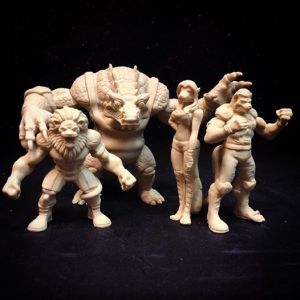 The set of 4 figures will be $60.00 which includes shipping in the USA.
Each set contains
Goliath Revision 2.o (tighter arms)
Leo/Generations Lion 2.0 (refined mouth, tighter sculpt)
Ulric Revision 2.0 (tighter sculpting on the face)
Yvonne 2.0 (tighter body sculpting/outfit)
Now the thing to keep in mind is this is not traditional white PVC despite its appearance, this is basic factory test shot material. These are only meant to look at details and form fit/factor.
Goliath is the most fragile, this test shot is delicate and PLEASE DO NOT ATTEMPT TO BUILD WITH HIM. Unlike the Designercon test shots that were run in the standard hard production pvc this material is softer and will break if you attempt to build with him on certain pieces.
These types of test shots were never designed to be sold mass market , they are solely for the internal team to approve changes and rarely ever see the light of day. But we are offering the MWOTR nation a chance to own a few of them so its best you guys know up front what they are.
If you are interested send a email to fantasticplastictoys@gmail.com