Now that Series 2 is here we figured we should give you guys a heads up on how things will work
We will be in the Block again this year, for those that are new to C2E2 the Block is a area reserved for indie artists. You will find our retail partner Rotofugi, as well as quite a few others from the "indie" scene.
Specifically we will be at Nerd City for the third year in a row, hosted by Ben Spencer we will be anchoring the corner with Marty "THEGODBEAST" Hansen, True Cast Studio, and for the first time RawShark Studios (makers of the Glyos character Calgrim)!!
We will ONLY be at the Booth (760) on Friday and Saturday, some fans showed up on Sunday last year and were upset we were not there. So we are going to let you know in advance that Friday and Saturday will be the days to see MWOTR, we will be leaving Sunday for the Kane County Toy Show and won't be in attendance.
Normally we just offer our figures in their pack configurations, however this release is extra special to us and because of that has its own rules. We started this venture three years ago, two years ago we launched resin figures at C2E2. Last year we released Metallic Black Series 1 at C2E2.
Because of this we are offering Goliath as part of a Series 2 bundle for $15 ($9 + $6) with the option to buy extra Goliath figures once a bundle has been purchased.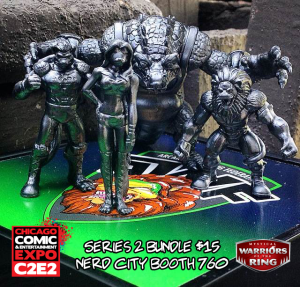 Now we know some fans might only collect the Glyos Goliath but this colorway was specifically chosen to celebrate the minifigures and the brand. We felt celebrating the arrival of Series 2 and the success of Goliath as a milestone for the MWOTR label at the place where it launched was just too much fun 🙂
So with that said here is the listing of items, there may be a few resin items that pop up but we have been so focused on Series 2 and Goliath that some other projects have been pushed down a few weeks/months.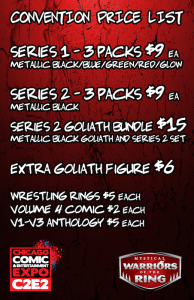 Can't make it to C2E2 or have nobody to help you, unless we sell out completely at the Con (which is a possibility given the emails I have been getting) the remaining stock should go up for sale as early as Sunday May 26th.