We will be in Artist Alley C18 all weekend Friday-Sunday!!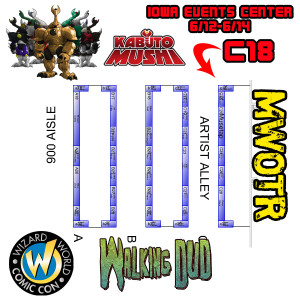 It looks like our new prototype will be here next week and so if you want to see the figure just ask and I can show you on my phone 🙂
Also Marty "THEGODBEAST" Hansen will have a Con exclusive metallic bronze Kabuto Mushi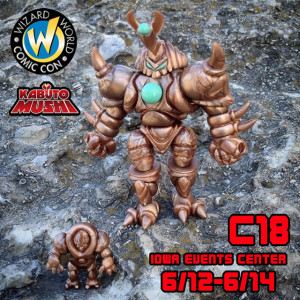 And he will be doing a panel on Saturday as well!!
4:30 – 5:15PM THEGODBEAST: A DISCUSSION ON SCULPTING, MOLDING, PROTOTYPING, & PRODUCING TOYS (ROOM 305)
Come visit with Iowan native Marty "THEGODBEAST" Hansen as he discusses over 20 years of working in the independent toy world. Hear stories of his travels and work with companies big and small, his work with the True Cast Studio (prototyping for Sideshow and NECA) in Kansas City, and the ins and outs that led up to official mass production of his own action figure toy line the Kabuto Mushi. Marty will answer questions and offer advice to those looking to make their own toys.