When we began this venture over a year and a half ago people did not know what to expect. As each month passes and more is revealed they are starting to get the idea.
By the middle of April everyone will be aware of the price, what is included, and when the figures go on sale. But in the meantime we thought we would tease something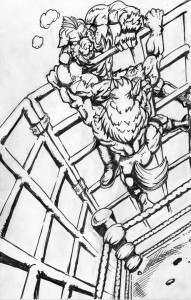 We have spent countless hours seeking out highly talented artists to help us bring this vision into reality. We have sought out independent artists, professional comic artists, and even Disney Imagineers.
So without further ado let me introduce the latest, the extremely talented Lee Burbridge of BigManToys
If you have not already given him a like on Facebook, head over and check him out. His Treegar 5.5″ Figure is insanely awesome.
And keep checking to see what else Lee and I have cooking and how its fits into the debut release at C2E2