Now that War Games is entering its final two weeks of prep for our 7/12/2013 release, we have begun to turn our attention to our August exclusive figure.
This one is a little special and is our first collaboration. The idea for this figure came to me at 4am one night while I was thinking up the design of Talos and working it out on my iPad (where I sketch very basic designs of all the characters). I worked it out over the span of 2 months with Lee (the characters creator).
This figure will be very special because besides being completely awesome, it will contain an event ticket that can be used to replace any event ticket…a golden ticket if you will.
So if you missed out on Windy City Wreckage or War Games you can use this ticket towards the mail away at the end of the year.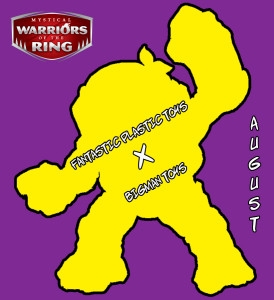 Because of this unexpected release our overall release schedule will be readjusted. We may swap figures around due to the events that occur in the associated comic.