Our latest artist profile is on the man behind the art. I have known Jazyl for almost a decade, going back to our friendship on he-man.org where he is known as "2-Bad".
When I originally came up with the idea for this universe I knew there was only one person who would "get" what I was wanting to convey. It is actually through his art that I was put into contact with Simon for the first time; Simon frequently works Jazyl's art commissions into sculpts so he has a unique familiarity with it.
The usual process for how we work is simple. I have an idea or concept and sketch it out. Then I send it to him with some notes and references to convey what I want. He then returns his impression of that and we move forward.
This is a quick and dirty glimpse into how we work, my concept as seen through his talented hand: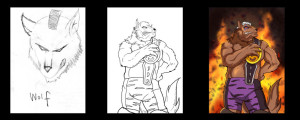 Jazyl is an animation professional, specializing in character design and 2d animation. He is a lifelong fan of anime/manga & He-Man and the Masters of the Universe. In 2010 he created the web manga series 'The Beast Legion, which is currently ongoing and took top honors in 2011 at Comic Con India for Best Webcomic Series.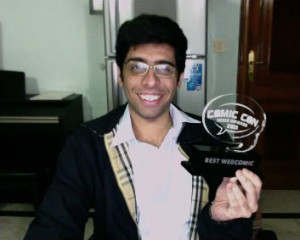 He also works as an animation director for Anitracks Media on their upcoming animated show 'The Age of Lions'
We have many more characters to show off to you as things roll forward! We have supporting characters, new wrestlers, and updates to old favorites who might get a new look down the road. So as with all of our team we look forward to the future and the awesome creations that will spring from our minds!