Officially on November 11th 2012 this website was turned on, and less than 1 year from the day we have surpassed even my wildest dreams in terms of response and progress. We have had a wild ride this first year, we launched to an enthusiastic response at C2E2, and have tried tirelessly to meet the needs of everyone who wants figures. We realized pretty quickly with under 5 minute sellouts that it was both necessary and appropriate to take that next step. We felt we needed to take our brand to that next level, to make our dream fully realized and get it into as many hands as we could!
And thanks to the amazing Matt Doughty (Creator of the Glyos toy system and owner of Onell Design) and his crew, we have run 3 of our figures in his factory and have become "official" in terms of production.
Now before I go any further I am going to ramble a bit; but the following thanks have to be given:
First to Matt Doughty; your advice and guidance throughout this whole endeavor can never be repaid. The time and energy put in by you, Factory Owner Paul Wai and his team to make this happen, makes you realize that there are just good people in this world willing to help you succeed! We will always cherish the advice you have given and have yet to give. We consider you an honorary member of the MWOTR Family, and hope that our releases and figures make you proud to have worked with us!

We need to thank True Cast Studio (Adam Smith and Josh Edwards), if not for their dedicated work on our molds and aid they provided over the course of this year we would not be at the point we are today with our figure line. It needs to be said that fans would not be even looking at the C2E2 Goliath if not for Adam and Josh's amazing skills in mold making. The future looks bright and I can't wait for fans to see some of the surprises we have up our sleeves!
To the unheralded hero behind this whole production adventure, Marty "THEGODBEAST" Hansen. Many of you know that Marty is not just a MWOTR team member, he is one of my best friends. I have been with Marty through some really tough times in his life that might have broken a regular person, but he preserved and taught me that when life knocks you down, you just get back up and keep going. When I launched this whole thing in his basement he was totally on board. Marty was there from conception to realization, giving me his sage advice and pushing me to go further and further with our ambitions. There was never a question of if we would succeed with Marty, he believed we had it in us to make it and that is exactly what we have done!  Utilizing all his experience from the past decade and his tireless work to make our figures shine for release. What often goes unmentioned is the massive amount of behind the scenes work he puts in, which was vital into making both the Urethane Collectors line and the newly created PVC mass market line a reality. No amount of praise or kind words can explain his impact on the Mystical Warriors of the Ring.

To my wife Jill, you have been my inspiration for the past 13 years. You endure the MWOTR world 24/7 and all its ups and downs. Many people might not know that Lapin Loco is your creation or that you have to suffer through hours of "research" which is just me watching professional wrestling. Thank you for supporting me with endless blind faith; even when I doubt myself, you never do.
To my sculptor Simon Grell, you are an amazing talent. I wake up everyday and thank god that you allow me to showcase your sculpts to the world. We have a lot of magic left to do! Thank you, thank you, thank you!
To Jazyl, my friend of almost 10 years. You have an uncanny ability to take my ideas and sketches and make them so awesome! You jumped right in with me last November no questions asked and never looked back.
To Lee, my wrestling compadre. The only other person on earth who "GETS" me when it comes to the drama and the respect for the wrestling world required to make our characters live and breath. I am blessed to have met you, I can't wait for the world to see the future comics we have planned and to really get the MWOTR world going.
To my Mom and Brother, who spent tireless hours putting up with my musings and helping me along the way. Whether its hand sewing wrestling skirts or tirelessly making trip after trip to the post office to mail out orders. You guys have supported this thing since Day 1 and for that I am forever grateful.  To my Father, who passed away in 2010, I wish you could have been around to see this! It was your passing that changed everything and taught me that life was too short to not go for your dreams. I miss you everyday and hope that you are looking down and proud of what you see.

To Pixel-Dan, Frank from Little Weirdos, and George and Ayleen from Toy Break we appreciate all the good reviews and your enthusiasm for an up and coming toyline. We hope to keep working with you guys as we continue to grow. You were there promoting us and trying to spread the word at the start and we won't ever forget that.
To Brian and Jeremy from Spy Monkey, you guys have helped me in ways you will never understand. I am glad to know you and thank you for delivering Matt Stein into my life to bother on a daily basis. Thanks for the hours of answering questions, giving suggestions and just being enthusiastic to my plans and ideas. The Toy Community is lucky to have you guys in it and I am lucky to have you as friends.
And last but not least the fans! Fans like Bart, Feroz, Jimmy, Alan, Jason, Ty, Gabe, Bob, Jevon, Rob, and many others who have bought the figures in person and online…you give us a reason to keep pushing the limits, to keep expanding. You guys bought into an unknown small company with big ideas and gave us constant feedback and encouragement. The honest truth is without you coming to the website and buying the prototypes, none of this could have happened. We hope you will be just as happy for these as we are!
Below is a picture of the test shots, final figures are still being produced with a wide release at NYCC in October in two limited colorways (specific details will come soon).
We present to you Mystical Warriors of the Ring Wave 1, PVC figures produced in China. Widowmaker, Kayin Kungaa and Sheldon Sabre (Wrestling Version).
Final PVC release figures will be available in FLESH and RED for NYCC for between $9-10 for the 3 pack.
UPDATE 9/24 TEST SHOTS ARE SOLD OUT!

These test shots are made of a harder material then our figures will be (we are aiming for a more M.U.S.C.L.E. like flexibility instead of the harder PVC you see in O.M.F.G.)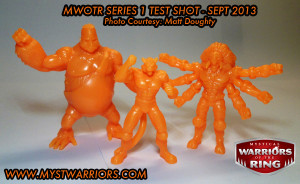 What this means for the remainder of the line depends entirely on the reception these figures receive. There is a small FAQ below that might clear some things up, in short we will be continuing the Collectors line of Prototypes for the time being.
Q: Will the PVC released Widowmaker, Kayin Kungaa and Sheldon Sabre have "Collectors" editions?
A: the short answer is we don't know, the long answer is much more complex. We want fans who have been with us since Windy City Wreckage and want to complete their Prototype Collection to be able to. We can offer things like thermal color change and other neat colorways which continue to make the prototypes unique. And as you have seen this is currently the only way to get the "Robed" version of Sheldon Sabre. These prototypes give us feedback we need to decide how to set a roadmap going forward, it also allows us to work out design issues, and produce variants without the expense of overseas production. So after NYCC we will most likely do a made to order run of each of the 3 figures from Nov-Jan to give collectors a chance to buy prototype versions.  But because of the PVC release we will only require 3 total tickets be redeemed for the mail away figure. Each prototype figure will still come with its usual extras. We hope this strikes a balance that does not devalue collectors contributions to the line so far, but allows for a bit of flexibility.

Q: Now that you have made PVC figures, how will future figures be done?
A: As of right now future figures will be done the same as before with the urethane pieces, however if sales are good on the PVC figures we can possibly greenlight future waves and buy new molds for new figures. Everything hinges on the reception of the PVC line. That is not a sales pitch, its the gods honest truth.
However with that said,the PVC releases may have changes from their "prototype" pieces we make in Urethane. Some production pieces that may come later may even be in a slightly different pose or have added attire to make them distinct. For example Ulric Wolfrom may see a PVC version with his new ring attire (as seen in the Art Print we released) to distinguish him from the Urethane MK1 or MKII. Kayin Kungaa has a different facial scar in the PVC version then the one he has on his prototype. There may also be character variants. For example if Lapin Loco is produced in PVC, then we would aim to offer a urethane version with "Day of the Dead" themed masks and attire that are not run in PVC. The possibilities are endless when you consider how wrestling works, and the fact people have different outfits and costumes over the course of their career.
Q: What if I just want to wait and see if my favorite character comes out in PVC?
A: That is entirely up to you, we realize collecting the Urethane editions can be expensive and is not for everyone. All I can say is that there is absolutely no guarantee a certain character will be made in PVC. In a perfect world I would want every character in every pose to be produced overseas, but the reality is that molds cost a large amount of money so the choices of who and what gets made in PVC need to be done with the best interest in the life and success of the line in mind.
Q. Why not just do a Kickstarter to pay for everything and get it out to fans?
A. This question has been repeatedly asked to me since Day 1, I understand the need for Kickstarter and its benefits. However from a personal view I am not comfortable in being tied to a schedule that Kickstarter would require us to have or "owe" product to supporters. As we have seen with O.M.F.G. and S.U.C.K.L.E. there is a large minifigure community that supports the endeavor, but we would rather do it slow and steady and build up as a brand with our own funding, on our own schedule. If we ever do a Kickstarter it would be to support a major expense like production of playsets (steel cages, locker rooms), an animated pilot, or some other huge endeavor.
Q: Now that they are PVC, will these be made available in stores like Toys R Us or Walmart?
A: At this time sales of these PVC figures will either be online or at conventions. Depending on sales it could reach a point where we would seek to make them available at local comic shops, or seek out something like Diamond Distribution. Until we know better the demand for PVC pieces we cannot make any firm comments on availability outside our respective stores.