As we have said before when you see something revealed its usually been in the works for months, even as we speak we are working on figures for our 3rd mold which has an ETA of Spring 2015 at this point (timeline shifts as the 2nd mold goes further into production) and some other interesting projects along the way.
Here are two images I received this week from the studio in Kansas City, we all know Lapin Loco was seen at Kansas City and Chicago, but why would Josh be working on them again?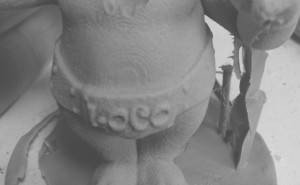 And in that second picture can anyone guess who that is?