Earlier today I was shown 5 pages of our second comic and Lee has stepped up his game big time! I am so proud of him for all the effort he is pouring into this and I think fans are going to love it.
I was messing around with some of the art and made a promo image for Instagram depicting the main event in Lee's comic style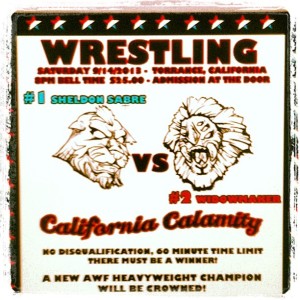 Who will win and become the next AWF Heavyweight Champion? Will Sheldon Sabre finally regain the Gold that he so bitterly lost last December? Will Widowmaker dazzle the crowd with his unprecedented move set and begin a reign unmatched by any AWF Champion before him?
Find out when California Calamity and the Mystical Warriors of the Ring Tour come to PowerCon 9/14 & 9/15!