We told you a few days ago Lee completed a nearly 30 page Volume 3 comic. We also told you early on we were looking into various designs for our characters in a video game.
So we decided  a fun thing to do would be to celebrate the 3rd and final comic of 2013 with a video game cover that brings together all the nostalgia of Nintendo's NES Wrestling and Tecmo Pro Wrestling.
To get this done we asked a favor of Brent Tucker, a retro video game artist/enthusiast who has done work for our friends at Spy Monkey this past year to work us up some character models in the vintage style. If you want to see more of his work visit his site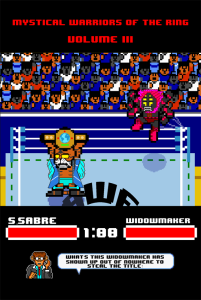 We hope to see more art and work by Brent on our line in the future, and I will say again I can't wait till people read this comic!