Remember when we had you guys vote for who you wanted to see sculpted? At the time the poll was done we had Winged Fury, Fortune Seekers and Tembo Jiwe atop the vote getters.
Well we have shown you Tembo Jiwe, who is now slotted in as the C2E2 "Collectors Edition" Exclusive Giant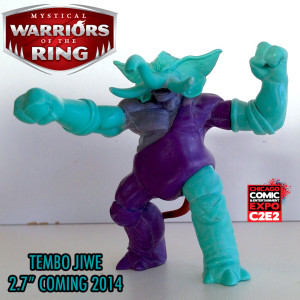 So what about Winged Fury and the Fortune Seekers? As the bio for the Fortune Seekers implied their story for 2014 is connected, so Fortune Seekers will come up first as a reveal and a release.
With that said, we don't want to show too much too soon so on New Years Eve we will be showing off the digital sculpt of Clubber. Clubbers prototype is actually on its way to the True Cast Studio to be prototyped and Astral will follow.
So make sure you check back here on 12/31 for a look at 1/2 of the Fortune Seekers 😉
And what about Lapin Loco? They have been completed and prototyped, but we are planning something extra special for them. As the current AWF Tag Team Champions they deserve some special time to shine.