A lot has been going on this weekend! We were overwhelmed by the response from kids to our line, especially little girls who outnumbered boys easily in terms of buyers.
First up we have a great review by our pal Frank at Little Weirdos of our Convention Pearlescent Neon Green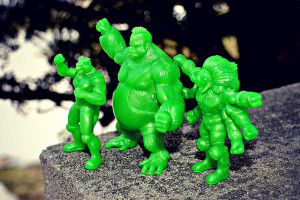 Next, our friend Daniel from It's All True stopped by and spent quite a bit of time with us and our partners Marty "THEGODBEAST" Hansen and True Cast Studio! They have pictures of the Leo 5′ grey prototype that we put on display Sunday. We will have more detailed info about how the "Generations" release of the Leo 5″ figure will work, with your first change to pickup the figures being C2E2!
And last but not least a surprise colorway , a very neat looking "gunmetal" which is different then the Black Exclusive that our retail partner Jay's CD and Hobby is carrying.
This is currently only available at Cons but should end up online along with whatever remains of our Neon Green in May.