Here is your first look at the mail away card art for the Yvonne Wolfrom figure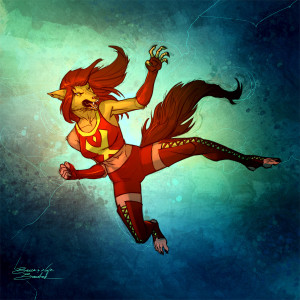 The artwork is by a very talented 13 year old girl by the name of Becca Baertsch. If the last name sounds familiar to those in the Glyos and MOTU universe, it is because her father is none other than Nate Baertsch who has done work for the 4H, Spy Monkey and does the beautiful illustrations for the Icon Heroes MOTU Statue Line.
He assisted his daughter on lines, cleanup and colors. We were very happy that we could work with Nate's daughter and look forward to having her do more work on our line as we move forward.
Later this week we will show off both the metallic and the thermal color change Yvonne Wolfrom figures, we anticipate shipping out the first wave of Mail Orders around the 2nd or 3rd week of April. Remember you have till 6/15/2014 to get your mail away certificates in