Normally I would not make a post about things that go on in professional wrestling. There are thousands of blogs that do it better and it really has nothing to do with my toyline or its characters.
This is different though, and I would feel wrong if I did not say something.
As I woke up today to a txt from my best friend telling me that the Ultimate Warrior had passed I was shocked. As a lifelong wrestling fan you become used to modern wrestlers dying at a young age, whether it be from drug overdoses, or the after effects of years of steroids and/or drugs. We have lost many legends in recent times, Macho Man Randy Savage, Paul Bearer, Big Daddy V, Sensational Sherri, Bam Bam Bigelow and the list goes on and on.
Warrior was never the "wrestler" that many in his generation strived to be, with a limited moveset of power moves it was his charisma and over the top portrayal that sent fans around the world into a craze. In later years he would border on the insane as he tended to isolate himself from many in the professional wrestling world with his opinions. His rants and outbursts were as entertaining as they were disturbing for fans of the business. He was a genius at self promotion and despite all the crazy he poured out , you never were far from seeing his likeness. I am glad that in recent years he seems to have calmed and was able to work with WWE to be recognized for his contributions to the sport.
Ultimate Warrior captured many of our hearts, here is a picture of me and you can obviously see who is up on the wall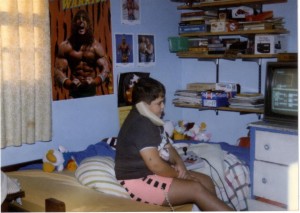 Even today you will see the Ultimate Warrior's influence all over my brand, I was very much a Hogan fan and remain a Hogan fan to this day. But there is no denying the Warrior's over the top interviews and larger than life personality are some of the traits at the core of MWOTR's world. As we develop our story and you meet more of the characters for the first time that will become clear.
When Eric Sorrells had the chance to customize a set of the minis he asked me what characters I wanted to see, it should come as no surprise that Warrior was one of them.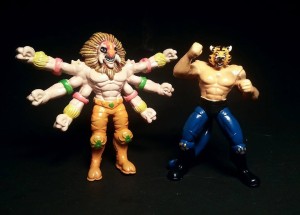 Even this past Monday night, as I was playing with the new Lion figures I choose 2 figures to be in the ring with them
I was glad to have seen him one last time on the WWE Hall of Fame this past weekend and again on RAW. I will regret never taking the opportunity to meet him, a chance I will not pass up in 2 weeks when I get the chance to meet Hulk Hogan.
Even though I am just one of millions and insignificant in the grand scheme of life, my thoughts go out to his wife Dana and his 2 girls Indy and Mattigan. You can be proud of who your father was and the legacy he leaves behind.