You may remember me talking about my friend Chris Smith's Kickstarter for his Luchador comic book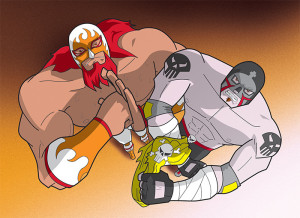 Since that time it has been fully funded and they are making one final push (the more money the more issues can get made) in the next 14 hours before it ends.
https://www.kickstarter.com/projects/hardcoreluchador/hardcore-luchador-lets-print-issue-2
Now before anyone thinks "I come here for MWOTR updates, not to be sold on something else",  Chris and I have been talking over recent weeks and there is a very real possibility that if our schedules free up and there are the resources we may work together in the future. I for one would love to see the two worlds meet up in some fashion.
When we did Lee's Johnny "Treegarr" Stumpz last year,  we opened up the door for cross brand promotion and cross brand matches. We still may do this again this year with another character but with our focus on PVC Series 2 and 3 there is only so much time and so many resources.
Any die hard fan of wrestling knows how important the cross brand events were to promotions back in "the day", one need only look at things like AWA/WCCW SuperClash III where Kerry Von Erich lost in a controversial match to Jerry the King Lawler, or the always awesome NWA/WCW vs New Japan Super Shows to know the potential for some incredible stuff.  So if things work out we would love to partner with Chris and Angelo to expose both our brands to new fans in some way.
So we wish them the best of luck in their final hours!