This weekend marked the arrival of Mystical Warriors of the Ring Series 1 to the minifigure mecha of Japan! I have to give personal thanks to Marty "THEGODBEAST" Hansen and Don "Datadub" Kratzer for their behind the scenes work at setting this up.
Sold during this weekends Wonder Festival and later this week beginning online, its part of a board 2014 drive to expand to international markets.
This pic is a personal highlight for us, the man holding our figures and comics is Tak from Zoomoth, a japanese toy company that is popular for making limited edition licensed minifigures based on classic videogames (Contra, Splatterhouse, Ghouls N Ghosts). The fact he would even take a few minutes out of his day to look at our stuff and then decide to buy it makes me feel fantastic about what we are doing.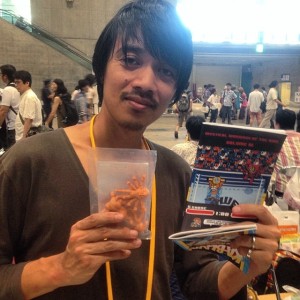 We currently are trying to negotiate deals with stores in Canada, Australia, France, Italy, the UK, and Mexico to get our figures into their markets. It is our hope by the time Series 2 launches later this year we will have a few alternatives for those fans who want figures but don't necessarily want to pay international shipping. We are starting by specifically targeting the countries we see International orders come from.
If you are in a foreign country and like our figures and want more (comics, playmats, rings, etc) then feel free to email us the name and address of any stores you think might be interested in carrying them.