Its been a whirlwind 24hrs, Goliath went up for sale and sold out in less than 2hrs!! This was not urethane or any kind of collectors edition, this was standard pvc production run in a pretty high number of units.
I am so thankful that all the fans turned out for this one and it sent a resounding message that the Evolution brand is a strong one and was definitely the right choice to take Goliath!
With that said IF you missed out, when we decided on production we ran a tiny bit extra to make sure some of our retail partners could expose the brand. This was extra run over what we put up for sale for consumers, another reason it was the highest number of production we have ever done.
Shortly a small shipment of Goliaths will make their way to Rotofugi in Chicago, so if you are around their store check them out or give them a call in the coming weeks.
They are located at 2780 N Lincoln Avenue, Chicago, IL 60614
You can call them at  773-868-3308 or email rotofugi@rotofugi.com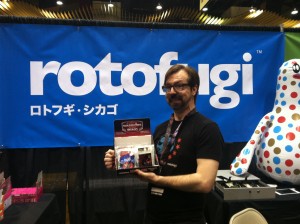 If you are in Japan there is a small shipment of Goliaths headed your way courtesy of our friend Don "datadub" Kratzer of Fig-lab, you might remember him from last summer when we entered the Japanese Market at the fall Wonder Festival.
We would also like to welcome Zverotech as our newest International Partner, they are a web based minifigure store in Russia that sells some unique bootleg Battle Beasts and other minifigures from their area.  They will also bring Goliath and MWOTR to the Eastern European market for the first time!