We are pleased to reveal images of our debut release as well as pricing and a short Q&A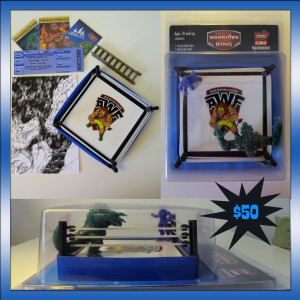 Included in this Limited Edition set is:
Ulric Wolfrom 2″ Minifigure
Goliath 2.3″ Minifigure
2″ Scaled Wrestling Ring w/UV Resistant Vinyl Mat & Glow in the Dark Ropes
Fabric ring apron
2″ scale plastic ladder
Set of Trading Cards that tell the Bio of the characters and the Story
Black and White Minicomic
Commemorative Event Ticket which can be used at the end of the year
Clamshell Packaging
We will have 3 set choices available while supplies last
Metallic Green & Purple
Aztec Gold
Thermal Color Change Green/Yellow & Purple/Blue
We will also have a handful of Ulric Wolfrom test shots for sale at C2E2 (and if they remain we will list them on our store in May) for $25 each, these test shots will never be produced again in this exact pose.
If you remember we found some QC issues with the Version 1.0 hand after the prototype were made, this led us to create the Ulric that is included in the set above.  Each test shot will come with a numbered trading card that gives Ulric's bio. These will be slightly different then the trading card that comes in the set above.
You can get these releases at the Nerd City booth #967 in THE BLOCK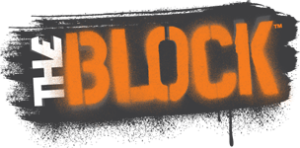 Now for some Q and A's on the line and release in general :
Q: Why is this so expensive compared to what I see in the store?
A: These are being done on a small scale with high quality UV Resistant Urethane. Costs need to cover the original digital sculpt and production so that we can continue to bring out the rest of the figures in our Universe.  We have researched the market and tried to price accordingly. We are confident once you hold them in your hands you will think the price is more then fair.
We apologize if this prices any of our potential customers out of the market but the price is non negotiable. If we can get to a point of success where we can move the production to China, then and only then will the price come down to a level most consumers are used to.
Going forward the base prices* will be as follows (these figures will include accessories which can be things like trading card bios, mini comics, and packaging so the prices will range). I reserve the right to increase or decrease prices as I see fit for the health of the line.
Giants (Goliath, Kayin, Talos, Deluxe Robed Sheldon) ~$30+
Tag Teams (Winged Fury, Lapin Loco, Fortune Seekers, Bloodlust) ~$45+
Standards (Ulric, Sheldon, Leo, Widowmaker) ~$20+
Ring Sets with Figures ~$25-50 (depending on who is in the Ring set)
Q. What age are these intended for?
A: These are very detailed limited edition items and are not recommended for children under the age of 10. Please handle responsibly. Each figure is sold AS-IS and has no warranty, these are limited items and must be handled with care.
Q. You said this set is Limited Edition, what is the Edition Size?
A: We do not release production numbers but being the first release it will be extremely limited, until we can gauge the demand we would rather underproduce then overproduce. If sales are high we will increase the edition size in the future or possibly re-release the set.
Q. Where can I buy them?
A: These figures will usually be available first at Conventions across the United States. A very small number are held for sale on our online store (www.fantasticplastictoys.com). Please refer to the release schedule (http://mystwarriors.com/blog/?page_id=36) for details on where you can pick them up. The releases will be extremely limited at first until we can determine what a good production size would be.
Q. Does the ring come with every release?
A. The ring will always be available with every release in limited fashion, however it is the only option for the debut release. In the future every new release will feature a version with the Ring for those just starting and a version of just the figure(s) for those who have already gotten into the line.
Q. You said there would be colored rings, why is this one black?
A. Due to the extremely long winter and the time needed to change the color of the rings we were unable to do it for the first release. Painting them requires many hours of work and the temperature to be above 60 degrees with plenty of ventilation. We are located in the Midwest and the prolonged winter just did not leave us enough time, we did try but the temperature just refused to yield a quality job.
We will note Black came in 3rd choice in our poll, 1 vote behind Blue and a few votes behind Yellow. So it is still a popular choice amongst collectors.
Q. Can you make the figures in specific colors? What if I want a special colorway?
A. You can certainly request we make the figures in specific colorways, however the final decision on what color the figures are released in is left solely to myself and my prototyper. The color choices we make are what we feel is best to display the figures in as best a quality as possible, to make the details shine.
Q. I missed out on a release, will you re-release figures?
A. We will take a lot of factors into account, if there is a need to re-release figures we will try to accommodate the demand but the we make no guarantees. These are being done on a limited scale and first come first served will apply, especially for the Convention releases.
Q. I am international can I buy these figures?
A. Yes we ship worldwide, if its in stock in the store it can ship to any country. Shipping charges are based on total weight of the product.
Q. I want to work with you, how do I do that? Would you be interested in a crossover?
A. I am always open to working with others, however this is my brand so there will be some requirements as I have a high standard as to which production/packaging/promotion is done. You are free to email me at webmaster@fantasticplastictoys.com to inquire.
Q. You said the Ticket would be used for something, can you elaborate?
A. Each of our major releases is themed like a Pay Per View Event, because of this they will have Event Tickets. The stubs of these tickets can be used at the end of the year to mail in and redeem to purchase a Extremely Limited Edition 2014 Preview Figure at a special discounted price (details about the mail away figure will be released later this year).
The 2014 Preview Figure will only be available for those customers that have purchased every event figure, and only the event figure(s) come with a ticket.
*Prices may fluctuate depending on production cost, materials and time involved.