The young son of our prototyper Marty "THEGODBEAST" Hansen, MJ, had a fascinating idea for a wrestler when we first started this up.  He envisioned a wrestling Rhino. We took to it instantly and started the development process based on MJ's original sketch.
With the bulk of Goliath, Cero charges into the ring taking down any and all who stand in his way.  He is no ordinary Rhino, born and raised near a Volcano in Hawaii he has adapted to the heat thus changing the color of his skin.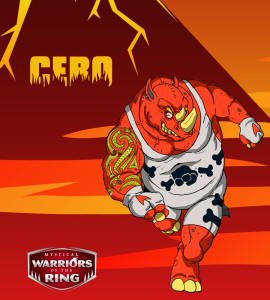 Look for him to be released in late 2014!