When we announced Johnny "Treegarr" Stumpz, we said he would come with an comic panel one-sheet. Once again the MWOTR Comic Artist (and Treegarr creator) Lee Burbridge delivers a B&W piece full of intensity. On the backside of this will be the story of the match.
This image will also be collected and expanded for the future trade paperback release (as well as an expanded Windy City Wreckage Comic and more)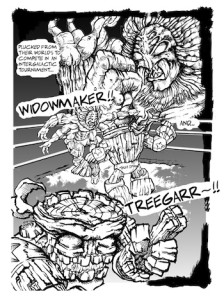 Look for more comic work by Lee as the year progresses, if we can pull it off there should be 2 more comic books released before the year ends.
And as another week begins we look at the voting

Loading ...
It appears there are clear favorites, so we will keep watching it for another week or two and then move forward with sculpting. If there is not a clear winner we will probably have 2 of the top 3 done. But its clear that fans really want to see the Former Tag Team Champions and the Bounty Hunters in 2″ scale. Ironic given that their stories intertwine….oops that's right you guys have not seen the Fortune Seekers bio yet 😉