We had an extraordinary time at C2E2 this past weekend, the city of Chicago welcomed us with open arms.
There were tons of cool kids who embraced our toys and we hope we see them again. There was a cake made for us by Gabriel Barragan and his wife Erika to celebrate all that has happened to our lines in the first year.
And we showed off for the very first time the sculpt of Ulric Wolfrom 3.0, we will have more in depth coverage of him coming in the next few days that explain all the differences between his prior sculpts and this one that is headed for our second series of PVC
And the biggest news of all! After a few months of conversations that Marty "THEGODBEAST" Hansen had on our behalf as a toy promoter with the owner of Rotofugi Kirby Kerr, we met at C2E2 and he has agreed to sell Mystical Warriors of the Ring in his incredible designer toy store!! For those in the designer toy industry this is huge news, it will increase our customer reach and introduce us to an entirely new audience who might not know about us 🙂 So HUGE thanks to both Marty "THEGODBEAST" Hansen for his intense behind the scenes work and to Kirby Kerr for helping us achieve one of our goals to expand our market reach!!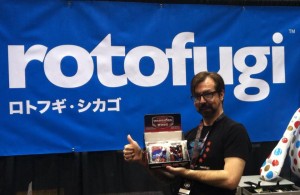 Never heard of Rotofugi?
Rotofugi Designer Toy Store & Gallery, established in July 2004, is located on the border of Chicago's Lincoln Park and Lakeview neighborhoods in a beautiful vintage building. Since opening, Rotofugi has grown to become one of the world's premier sellers of designer toys from artists all over the world. Rotofugi features a diverse selection of vinyl figures, capsule toys, plush and more from both eastern and western designers. The adjoining Rotofugi Gallery features monthly art exhibits by a range of both local and nationally known artists.

Located at 2780 N Lincoln Ave, Chicago, Illinois , you can reach them at (773) 868-3308
And to top off the weekend I got to meet my idol and probably my favorite wrestler of all time, the wait was grueling (we had to wait 4 hours standing to see him) but it was well worth it and I would do it again! He was super nice even and spent some time talking to me even though I was so exhausted I probably made for a pathetic fan.