People should know by now that the MWOTR team always has projects in motion, but certain projects take longer then others.
PVC production for example can take 3-5 months once we have all the sculpts finalized and tooled, but that does not count the time it takes to sculpt the original pieces and ready them to be sent to China (that can take 4-6 months).
We just showed off the Generations Lion's which took from Late Oct-last week (so ~5 months) and the AWF Production Playmats which took about 2 months.
So what else have we been working on? The latest project we are excited to show off is the in scale AWF Heavyweight Championship of course 🙂
If you remember last September I showed off the life size AWF Heavyweight Title made for us by Pro-Am Belts.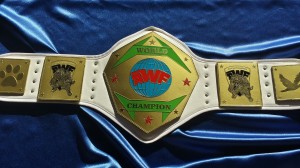 We use this display piece at our conventions, but in reality it served as a starting point for our 2″ scale belt. Even though the design of the physical belt is slightly different, it helps to have an actual title plate to look at so that it sits right on the characters of different size.
Using a render from the original design , our partner Josh Edwards of  True Cast Studio was able to get the plate designed and cast. Through a process called hydro shrinking we are working towards a perfectly scaled miniature version of this belt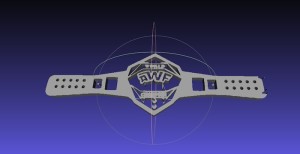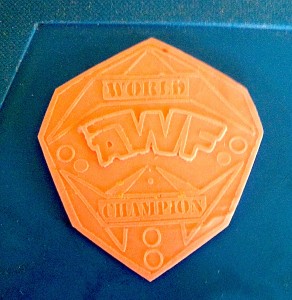 If you are coming to see us in Chicago in 2 weeks then you will be able to see not only the real AWF belt but you can also see the first in person look at the prototype of our belt (its about 5″ scale at the moment)!
We hope to have some more updates as it nears completion later this year and we have an interesting idea for its release that might coincide with some new characters nobody has ever seen in toy form 😉